« Parce que nous sommes acteurs de théâtre et acteurs aux théâtres, parce que nos passions sont à la fois sur la scène et devant la scène, ici suivent des pensées d'acteurs (jeunes créateurs en « exercice ») et de critiques de théâtre (jeunes spectateurs en « exercice») en formation au LFTP. »
Par Soizic Billet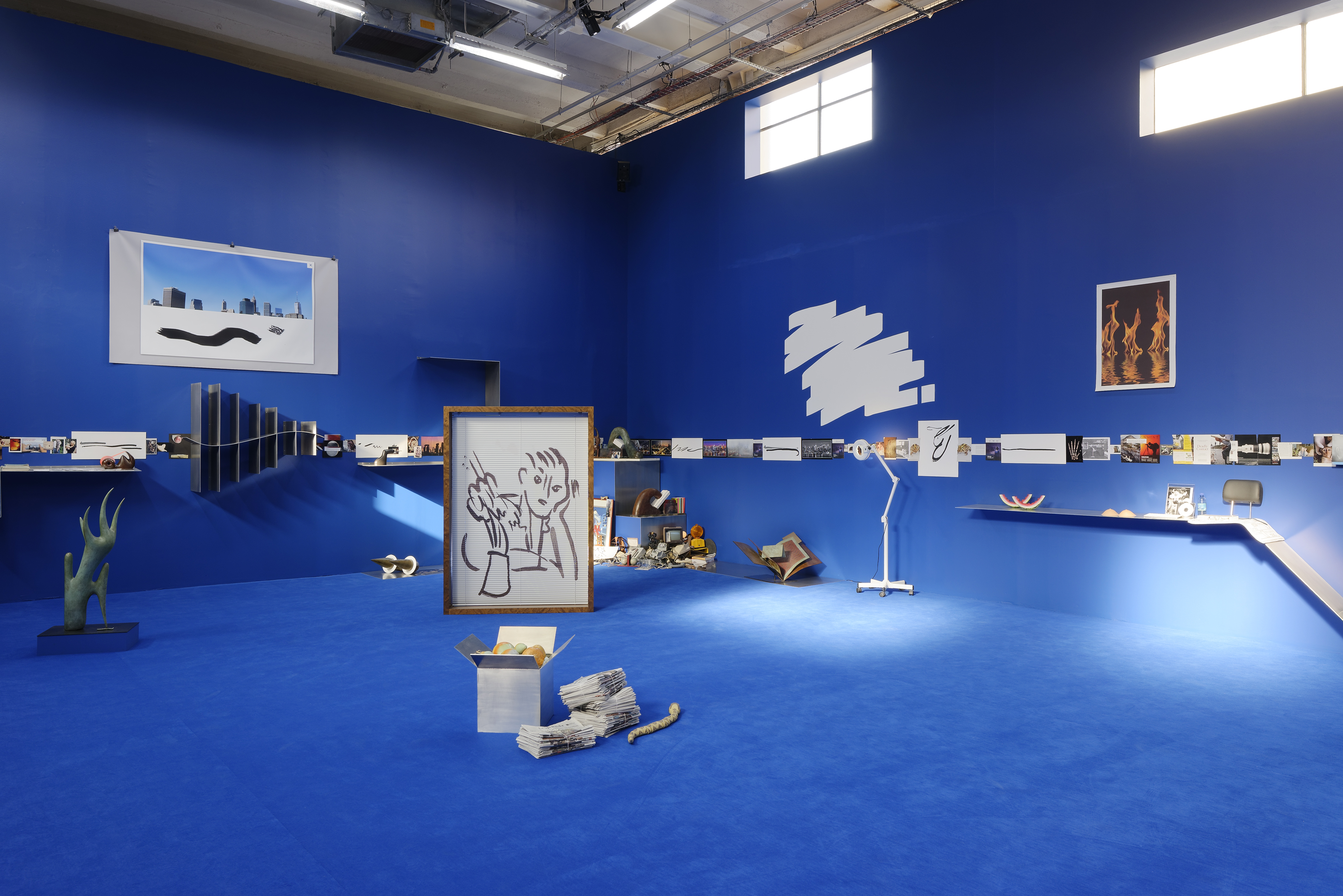 Une exposition sensorielle qui nous proposait une interprétation artistique des jours de la
semaine, à la fois personnelle et très universelle. C'était ça le plus étonnant, de voir la proposition de camille Henrot du dimanche par exemple et de retrouver complètement dans son interprétation. Ce mélange à la fois du personnel et de l'universel était pour moi le plus troublant de cette exposition.
Elle y a mêlé de nombreux arts : la peinture, la sculpture, la photo, la vidéo… Et surtout Camille Henrot et ses collaborateurs ont occupé l'espace de manière ahurissante ! Le palais de Tokyo leur appartenait et chaque jour de la semaine emplissait les immenses salles de leur présence et signification. A chaque jour son histoire, son espace, ses couleurs, ses inspirations (historiques et artistiques).
Ce qui m'a énormément touché et apporté via cette exposition pour mon travail : c'est la
puissance des images sur notre système cognitif et sensoriel. Comment un assemblage
artistique d'œuvre crée pour representer un jour de la semaine a pu autant me parler et
m'être similaire dans la sensation que j'avais de ce jour.
Résumé : Pour sa troisième carte blanche, le Palais de Tokyo invite l'artiste française Camille Henrot (née à Paris en 1978, vit à New York). Elle a travaillé sur ce projet en collaboration avec 7 artites : Jacob Bromberg, David Horvitz, Maria Loboba, Nancy Lupo, Samara Scott et Avery Singer. Les années sont mesurées par le voyage de la Terre autour du Soleil ; les mois dérivent du cycle de la Lune ; les jours correspondent à une rotation de la Terre. La semaine est, par contraste, une fiction, une invention humaine – ce qui ne diminue pas pour autant ses effets psychologiques et émotionnels. Les jours tirent leurs noms d'éléments naturels ou de la mythologie – la Lune pour lundi, le dieu Mars pour mardi, le dieu Mercure pour mercredi… Or, c'est au sein d'une nouvelle mythologie, à la fois contemporaine et intemporelle, que le visiteur vient s'intégrer ; une mythologie à l'âge de l'Internet, qui voit les émotions marquées du hashtag de chaque jour. L'ensemble opère donc par composition et recomposition d'archipels d'oeuvres – celles de Camille Henrot, dont certaines inédites, mais aussi celles d'autres artistes internationaux, avec lesquels elle entretient un dialogue fécond, et qui viennent ouvrir le champ de chaque jour.
Le Dimanche
« Ceux qui nous gouvernent aujourd'hui, avec leurs machines et leurs prédicateurs, s'acharnent à nous fourrer dans la tête cette idée grotesque que l'objectif de la vie, c'est l'activité plutôt que la contemplation. » John Cowper Powys, Apologie des sens.
Le dimanche est le jour de la grasse matinée, du ménage, de la communion spirituelle et des rêveries solitaires. C'est un jour hors de la société, que l'on passe chez soi. L'espace privé est au cœur de l'installation The Pale Fox, avec l'accumulation et la superposition de données personnelles organisées selon un excès de principes (les points cardinaux, les âges de l'homme, les quatre principes de Leibniz). C'est l'expérience physique d'une nuit blanche, celle d'une remise en cause fondamentale, qui est proposée. Le dimanche est ainsi le moment où l'ordonnancement du monde intime reflète l'ampleur de l'univers.
L'art japonais de l'ikebana, basé sur des agencements de fleurs réalisés selon des codes précis, a été adapté de manière hétérodoxe par Camille Henrot. Ses ikebana forment des conversations avec la littérature, chacun ayant été pensé en dialogue avec un livre de sa bibliothèque. À travers eux, c'est bien l'esprit du jour dominical, propice aux moments de lecture, à la solitude et à l'introspection, qui est mis en évidence. C'est aussi l'appartenance à un ordre – l'ordre des Ikebana et, plus largement, l'ordre social et politique – qui est évélé, soit la confrontation du principe de plaisir à ceux de la productivité et de l'idéologie.
Le Lundi
Lundi est le jour de la Lune : dans les mythes anciens, l'astre changeant incarne les variations fluides du monde, en même temps que celles des humeurs (d'où l'adjectif « lunatique »). David Horvitz (né en 1983 aux États-Unis) trace la prolifération d'une image personnelle de la dépression – une émotion qui nous submerge –, elle-même engloutie par Internet. Mais le lundi, dans la vie quotidienne, correspond surtout au début de la semaine, au retour au travail et à la mélancolie que cette « rentrée » hebdomadaire provoque. C'est un jour que l'on aimerait passer hors de la société, chez soi – espace de méditation et de création –, où comme Proust ou Matisse, on travaillerait au lit. Ces divers aspects, d'une part métaphysique et mythique, d'autre part social et intime, s'associent ici dans l'incarnation de l'esprit du lundi en un atelier d'artiste.
Le jeudi
« Océan, toi qui retournes comme tu le veux bateauxet hommes, donne-moi les navires somptueux des naufrages et leurs richesses, or et trésors…Océan, bel Océan bleu, roule-moi sur le sable, je suista fiancée… » Les fiançailles de Dahut avec l'Océan, La Légende de la ville d'Ys.
Jeudi est le jour de Jupiter, roi des dieux, père de bien des dieux de l'Olympe. Jupiter incarne la puissance, celle du patriarcat qui, dans les sociétés occidentales, a longtemps symbolisé le pouvoir en lui-même.
Le vendredi
« Monday you can fall apart
Tuesday, Wednesday break my heart
Thursday doesn't even start
It's Friday, I'm in love»,  The Cure, « Friday I'm in Love »,Wish
Vendredi est le jour de Vénus, déesse de l'amour, du désir et de la beauté. Dans Jewels from the Personal Collection of Princess Salimah Aga Khan, des fleurs collectées dans les halls d'immeuble de l'Upper East Side, quartier huppé new-yorkais, sont placées à la manière d'un herbier au-dessus des pages du catalogue de la vente de la collection de bijoux de la princesse après son divorce, en 1995.